SCULPTURES
On this page you will find french or foreign bronze, porcelain sculptures.
AUSTIN
Pierre Jules MENE
(1810-1977)
Pierre Jules Mene was born in Paris on March 25th 1810. He was one of the most succesfull sculptor of his time. His father who was a metel turner learned him hos to work metal. He spent like Barye time at " Jardin des Plantes" sketching animals from which he would make his sculptures.
He prefered horses but he modeled many sculptures of dogs. among them greyhounds on below pictures.
After his death in 1877 his son in law Auguste Cain continued to produce Mene sculptures till 1879. After Cain death foundry was closed and many models were sold to the Susse Frères foundry.
A catalogue has been published with the complete work of Mene.
Two sighthounds at play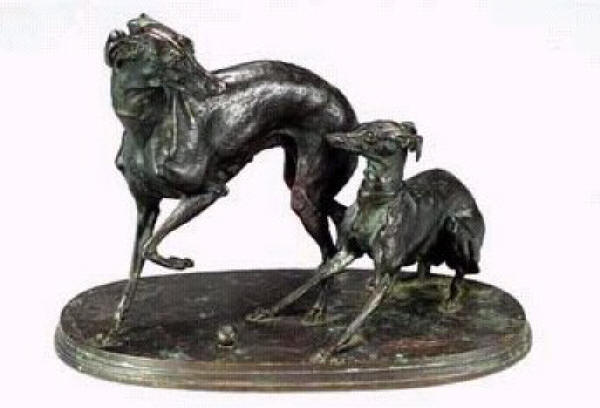 "Galgo Espagnol"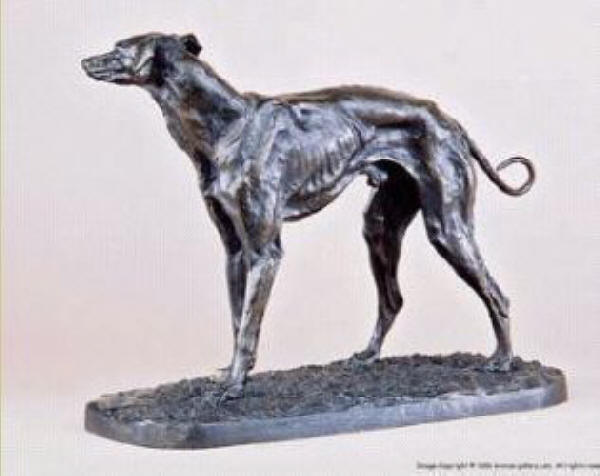 Nymphenburg porcelain
greyhound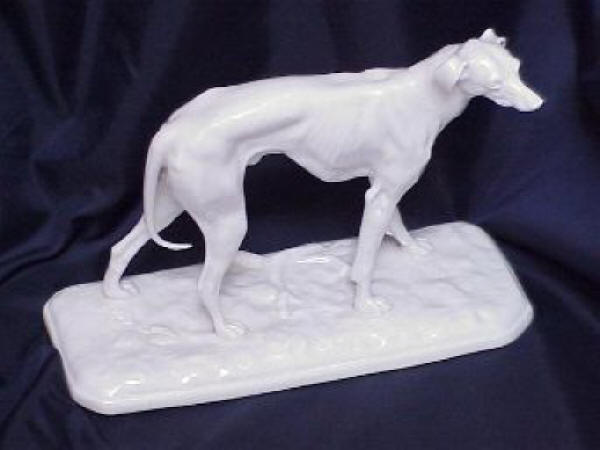 Antoine Louis BARYE
(1796-1875)
Antoine Louis Barye was born in Paris on september 24th 1796.
He was the son of a goldsmith and he worked as an apprentice to a metal engraver until he was drafted into the military in 1812.
Following the war he studied with the classical sculptor Bosio. Later he attented the Ecole des Beaux-Arts in Paris. .
His work is almost exclusively studies of wild animals but he also produced groups of horses, dogs, ...
Barye had obsession of perfection and often refused to sell one of his bronze as he considered it was not perfect !!! Barye was then forced to sell his models, plasters, to pay his debts.
In 1848 he became Director of a plaster casting establishment at Musée du Louvre.
In 1854 he was master of zoological drawing in the Musée d'Histoire Naturelle where one of his pupils was Rodin.
Barye stopped to produce after 186. He was dead in 1875. His plasters and models were purchased by Ferdinand Barbedienne.
Barye is considered as one of the best animal sculptors.
"Sighthound with hare"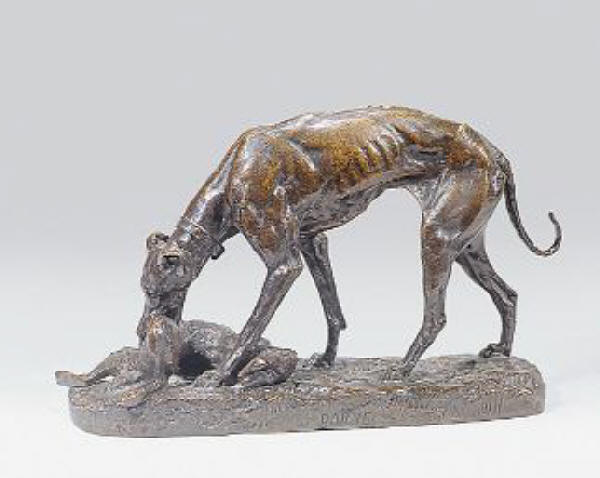 Boon Heng PANG
You may enjoy visiting the Kaba Gallery with sculptures of Mr PANG. Click the link below
Paul COMOLERA
(1818-1897)
Paul Comolera was also born in Paris. He was mainly known for his models of birds but he also produced domestic animals and busts.
This sculpture is a portrait of the racing greyhound Monarch. It was commissioned by dog owners.
Greyhound Monarch
Sand cast bronze 1846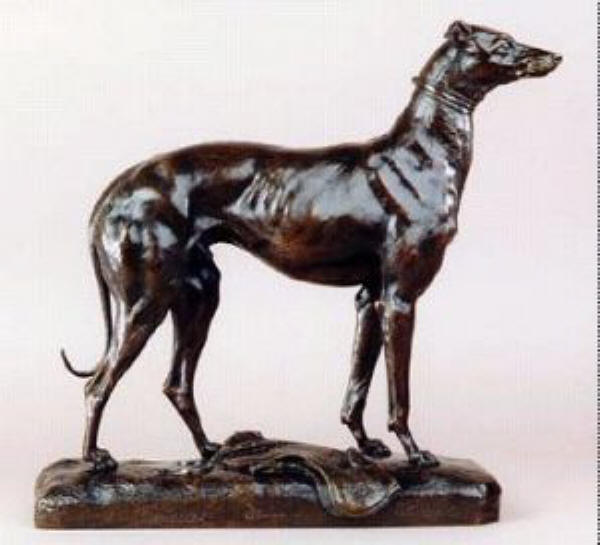 HAGENAUER
Carol ORWIN
RALPH MASSEY
MASSONS
ORINOCO
Demeter CHIPARUS
POERTZEL
Zoltan KOVATS (1833-1952)
Art Deco Regule & Ivory
Woman with 2 greyhounds on marble and onyx
Art Deco with Ivory
Woman with greyhound on black marble
signed Menneville
Sculpture 1935
Young girl with her greyhound
Bouchard 1923

Sculptures of Richard FATH (1900-1952)

Others Sculptures

Ceramics

Various Representations of the Greyhound


BAKARA'S CELINE

ROMANE

The "A" Litter

The "D" Litter

The "E" Litter

The "I" Litter

The first "O" Litter

BAKARA'S OANA

BAKARA'S ORNELLA

BAKARA'S OSANA

The second "O" Litter

BAKARA'S OCEANE

BAKARA'S OLINNE

BAKARA'S OLIVIANNE

BAKARA'S OPHELIA

BAKARA'S ORANE


BAKARA'S ODALRIC

BAKARA'S ONESIME

BAKARA'S OWEN

The "R" Litter

BAKARA'S RAEMOND

BAKARA'S RENE-ALEXANDER.

BAKARA'S RAFAEL

BAKARA'S ROSE-ANNA


BAKARA'S ROSELY-AMBER

The "S" Litter

BAKARA'S STANISLAS

BAKARA'S SULLIVAN

BAKARA'S SERGIO-PAULO

BAKARA'S SALOME


BAKARA'S SAMANTA-LEE

BAKARA'S SCARLETT-LILY

BAKARA'S SELENA-LUNA

The "U" Litter

BAKARA'S URSULA-FREYA

BAKARA'S UGOLIN

BAKARA'S ULLA-MARIA

The "V" Litter

BAKARA'S VANILLE

The "A" Litter 2005


Puppies aged 15 days old

Puppies aged 6 weeks old

Puppies aged 2 months and half old


BAKARA'S ASSIA

BAKARA'S AMALIA

BAKARA'S ALIX

BAKARA'S ANAIS

BAKARA'S ANAELLE

BAKARA'S AUXANE


BAKARA'S ALEXANNE

BAKARA'S AMANDINE

The "D" Litter 2008


Puppies aged 16 days old

Puppies aged 6 weeks old

Puppies aged 8 weeks old


BAKARA'S DJOVANY

BAKARA'S DRAGANA

BAKARA'S DAHOMEY

BAKARA'S DIANE-LEE

BAKARA'S DIXIE

BAKARA'S DAPHNEE

BAKARA'S DALILA

BAKARA'S DANAELLE

BAKARA'S DAYANA

The "J" Litter 2014


Puppies aged 3 weeks old

Puppies aged 6 weeks old

Puppies aged 7 weeks old


BAKARA'S JOANA

BAKARA'S JODAH

BAKARA'S JAFFA

BAKARA'S JILDA


BAKARA'S JA'NEL

BAKARA'S JANE

BAKARA'S JERALD

The "L" Litter 2015


Puppies the day of birth

Puppies aged 13 days old

Puppies aged 25 days old


Puppies aged 32 days old

Puppies aged 6 weeks old


Puppies aged 2 months old

Puppies aged 2 months and half old


BAKARA'S LEONARD

BAKARA'S LILY-ROSE

BAKARA'S LUUNA

BAKARA'S LISA-MADELINE


BAKARA'S LOCHLANN

BAKARA'S LOHRAN

BAKARA'S LOWEN

BAKARA'S LEO-PAUL


BAKARA'S LUDMILA

BAKARA'S LOUIS-PHILIPPE

SOBERS LIMERICK

FIONN CLANN ZOE LANE

XILONE BLACK JACK

HICKORY'S NAUTICUS

THE FUTURE

BAKARA'S HOMEPAGE

GREYHOUND AND ART

OTHERS SITES

GUEST-BOOK